HOPE BLOOMS ETERNAL ON A DREARY
DAY IN A NEW BEDFORD CEMETERY



A few years ago, my daughter joined me on a day trip to meet my half-sister, my daughter's half-aunt, who lives in New Bedford, Massachusetts. We were on a pilgrimage of sorts hoping to learn more about our family genealogy.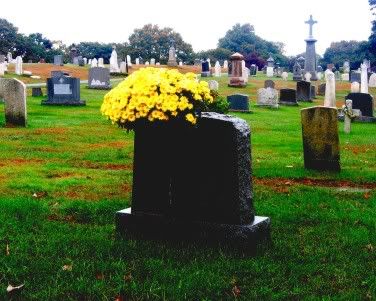 M. R. Lawrence Photo - © 2008



It was a rainy day and as we passed a cemetery, a bright yellow splotch of color caught my eye. It took me 2 more blocks before my photographer's sixth sense ordered me back for a memorable shot.





An ideal home business Home Page

By: Purva Mewar



From my personal experience of around two years as a home business website operator as well as owner, I have spent enough time learning and unlearning. Observing other sites and constantly reading and contributing in online forums about managing a website.

Having a website is all about being able to draw targeted traffic to you site. The more the traffic- betters the sales- improved commissions. This is everyone's ultimate goal behind running a home business website!

Striking a balance is the key - understanding visitor's psyche and the algorithm the spiders follow. Here, we will discuss a few important aspects of visitor's psyche; we will concentrate on home page only, considering it's the first impression. Home page is also called the index page.

Point 1. An uncluttered home page is the most important criteria of all. Let the home page be clean, simply formatted with readable font and suitable background color. Consider all these aspects. Unusual fonts, however attractive, should be avoided to play safe.

Point 2. You should make sure you are not filling up your home page with all and sundry affiliate links. Google will, in all possibilities not rank the page as well as you want it or expect it to. Google values content. Let your home page have information about main theme of the site. Try to cover as many aspects or points connected with your main theme on your front page. This way you will attract targeted traffic and move up the search engines faster. Google will visit your site more often.

Point No.3. Keep the visitor in mind: While you are designing your home page or writing content for it, keep your visitor in mind. His background, his interest, his benefit. Instead of your designing skills, your control over the language and so forth. Check other websites from a layman's point of view and see what kind of content holds your interest. Apply the same principal for your own.

Point No 4. Body copy of the home page should sound easy and interesting to read. Your headline, your punch line, everything should have an effect. At the same time - don't exaggerate. Don't lie. Don't over emphasize. A chunk of people look at any kind of activity done on the internet as scam. Be simple yet convincing.

Point No.5. Let your home page have clear cut paths. If your main theme is fitness let the pages directly connected to your home page be directly related to fitness. Like diets, aerobics, fitness chart, yoga etc. But when a visitor clicks on your diet page, on this new page, along with info on aerobics, you can have a link that's talking about free music downloads to do aerobics at home. It's connected and yet sort of diversifies. But you have to be careful. Excess of these things will mar your main theme. This will affect your Search Engine Ranking (SER).

Besides the above, here are a few quick tips: Don't change your home page too often. Neither the layout, design, nor the key phrases you are optimizing it for. While exchanging links, make sure your anchor tags contain your main keyword. Optimize one keyword per page. Googlebot treats each page is a separate website. So try to take time with each page. Let each page be well optimized, interesting and informative and complete in all respects.



The author Purva Mewar is webmaster of
Work at Home Based Business websites, http://www.yesearnfromhome.com and
http://www.work-at-home-earn-extra-income.com




| | | |
| --- | --- | --- |
| | | |
__________________________________________________________________

Forum: Clinton may suspend campaign on Saturday - Political Lunch - McCain's Debate Offers
Blog: Obama is party nominee - Myanmar junta refuses American aid - Republican VP Search
__________________________________________________________________


- MIDDAY NEWS AUCTIONS -
ValUShops.com eBay™ Auction Store




IS EBAY STILL THE WORLD'S BEST BUSINESS INCUBATOR? - eBay has enjoyed a reputation as a 21st century path to the American Dream since before the 21st century actually began. By the end of the last century, eBay presented a unique opportunity to start and build an independent business, capable of providing a sustainable income for budding entrepreneurs and their employees.

PROPEL YOUR PROFITS WITH BETTER IMAGES - There was a time when finding a good image of an item up for auction was a real treat. These days, it's an absolute necessity. Today there's simply too much competition, and a lousy image can lead to a lousy sale price (or no sale at all). To attract more bidders and earn higher bids, you'll need to serve up quality images every time. Here's how.

SHIPPING INSURANCE: IS IT WORTH THE COST? - You've no doubt heard the horror stories about packages that disappear off the face of the earth moments after being handed over the postal counter. There's no better argument in favor of buying shipping insurance than stories such as these. But what if your package isn't all that valuable?

NICHE MARKETING ON EBAY - Niche marketing is one of the most profitable strategies for the small to medium-sized eBay seller. It's also among the easiest ways for a new seller to get started making money on eBay. What denotes a niche market?

FIELDING BIDDERS' QUESTIONS - If you have lots of listings or a really hot product, you might get tons of inquiries. Answering them all can be time consuming, but do it, and promptly—even the dumb questions. They are usually interested enough to bid, but want to know more—either about the product or about you—before committing to the deal.













M. R. Lawrence
Publisher & Editor









TURBO LISTER SECURITY - The first time you connect to the eBay site with Turbo Lister 6.5 or higher, you'll be asked to sign in and verify your User ID and password (authentication). In the next step (authorization), you'll get the appropriate privileges to perform your Turbo Lister activities. During this process, we'll give your computer an encrypted security code that only eBay can read, which will be valid for 18 months. You won't have to go through this process again for 18 months, unless you add a new user to your Turbo Lister subscription, or you uninstall and reinstall Turbo Lister on your computer. This update is optional, as always, but in the interest of making the overall eBay marketplace safer, this process will become mandatory later this year. FAQ





SMART MARKETING: Register Your eBay ID Or Store Name As A Domain Today - Then Redirect It To Your Auctions

You can easily search the availability of your domain name choice now at ValUNames.com

__________________________________________________________________


- MIDDAY NEWS PHOTO CAROUSEL -







CLICK THE MIDDAY NEWS TOP MIDDLE EMBED BUTTON AND
GET PAID TO PUT FREE NEWS PHOTO FEEDS ON YOUR SITE





MY MIDDAY • PHOTO • BID • VOTE • HEALTH • STYLE • WORLD • TODAY • STARS • STOCK • SPORTS • PUZZLE • OPT-IN • IM


__________________________________________________________________


- MIDDAY NEWS INDEX -


INDEX - ENTER HERE FOR MASTER BENCHMARKS OF YOUR MIDDAY FAVORITE PLACES - DIRECT TO YOUR TOPIC